Matthew Stepp
Forum Fixture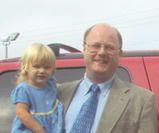 Joined: 07 Aug 2006
Posts: 2124
Location: Wayne, West Virginia, US of A
Posted: Mon Oct 07, 2013 1:13 pm

Post subject: September Romanian Mission Report

---

ROMANIA MISSIONS
Raul Enyedi, str. Izvor nr. 3, Bocșa, C-S 325300, România Email: raul_enyedi@yahoo.com

Grace Bible Baptist Church Jerry Dodson,
26060 Wax Rd, Denham Springs, LA 70726
Phone: (225) 664 3223

Curtis Pugh, 505 Nanih Waiya, Poteau, OK 74953
Phone: (918) 649 4064


September 5, 2013

Dear Pastors and Churches,



Mission work:

Beside the usual trip to Filiasi, we rejoiced in a recent visit from the family that lives near the city of Aiud. Aurel Miclea visits them regularly for teaching and fellowship. We had a great time of fellowship with them, and both they and we were much encouraged and edified.

Almost all summer we had visitors coming and going. We always welcome guests, and we believe that altogether, this summer was a very profitable one spiritually, both for us, and for all those who came to visit us. After the departure of our latest guests, Miriam and I took a few days off and traveled to Sweden to visit our relatives there. I was invited to preach to a group of Romanians and one Swede – so I preached in both English and Romanian! After that we had a fellowship time, with Bible questions and answers. We had a great time there in Sweden, but we're now back and ready for the huge amount of work we hope to accomplish by the end of the year.

In my absence Aurel Miclea preached in Bocsa and he and Aurel Munteanu made another mission trip to the east to visit again some of the people we visited for the first time on the previous trip. Their trip lasted 4 days in which they covered 1,000 miles. Both Aurels say that the trip was excellent and they had great opportunities to preach the Word.

Aurel Munteanu and I wish to express our greatest appreciation and thankfulness to the churches which sent him love offerings! Your generosity means much for him, for us, and for our labors here! Because of your financial help, he is able to continue full time in the work. He faithfully goes from village to village, from town to town, talking with people and leaving a gospel booklet at every house. He covered nine communities in August, which makes a total of 32 towns and villages since May in which every home received a gospel booklet through Aurel Munteanu's labors.



Literature work:

We continue to get new requests for literature almost on a daily basis, besides the ones from people who regularly request our materials for distribution. The amount of literature that has been distributed from person to person, and not through mail, has also increased greatly. Several of those who were given one piece of our literature have called for more and also asked us to come visit them. We are doing our best to honor those invitations as they are opportunities to teach and preach.

Last month we also printed 4,000 booklets and 1,000 copies of my 90 page book, Why Baptists Are Not Protestants. This book is requested a lot and we haven't had it available for two or more years. This month, Lord willing, we hope to print 10,000 more Gospel booklets, as we're out now, and also 1,000 copies of C.D. Cole's The Bible Doctrine of Election.



Getting acquainted with Romania:

I believe I mentioned the Gypsies in Romania in previous prayer letters. They comprise almost 3% of the population and are the second largest minority in our country after the Hungarians. It is hard to say anything about Gypsies without being stigmatized as a racist. And unfortunately, many are truly discriminated against. However, the Lord has brought many Gypsies across our path. Many of the people that we met in the latest trips to Eastern Romania are Gypsies. In these mission trips we have met some wonderful people and we are blessed to know some really great Gypsy Christians.

Economically Gypsies can be divided in two major classes, the very poor ones and the very wealthy ones. A "middle class" is virtually non-existent. The poor ones try to make a living collecting scrap iron, paper or plastics for recycling. The wealthy ones are loan sharks or make their money in Western Europe allegedly in organized crime (begging, robbery, prostitution, trafficking in drugs and weapons). I personally know fewer than 5 Gypsies that have regular jobs outside Romania. Regarding religion, they seem to favor either the Orthodox Church or various Pentecostal groups because of their inclination toward superstition.

A tragic comedy occurred among them last month, when the self-proclaimed "king" of the Gypsies passed away and the fight for succession began between his two sons at the head of the casket. The right of their kingship has been already challenged by another self proclaimed "emperor" of the Gypsies. They could not decide who would succeed the vacant throne, so they finally reached a funny compromise: the older one was named the "international king" and the younger the "national king" without anyone really understanding what exactly the meaning of these titles is or what rights and responsibilities they have, since they traditionally had no kings in their histories. Historically they had only tribal leaders which they call "bulibasa", [boo-lee-bah-shah].

Trying to work among and preach to Gypsies is always a challenge, but we know that the Lord has his elect amongst them. And since He directed us to many Gypsies, we ask you to remember us and them, too, in your prayers.

Thank you for your prayers and support! Bro. Raul

Hello All: Just room for a wee note from Oklahoma this month. Have had almost a month of health problems, but am OK now. Things go on about the same here, but have been able to plant some "seed" of truth verbally and in print to 3 friends and some new folk as well. Special thanks to Sovereign Grace B.C. In Craigsville, WV for the love offering and to Grace Missionary B.C., in Frankfort, KY for the kind greeting and gift of sermon CDs. Your letters and cards all appreciated as well as your financial help for the work here – most of all your prayers! God's timing is not ours, but He is accomplishing His will here.

Keep praying! Bro. Curtis
_________________
In His service, ONLY by Grace,
Bro.Matthew



Jeremiah 31:3- "The LORD hath appeared of old unto me, saying, Yea, I have loved thee with an everlasting love: therefore with lovingkindness have I drawn thee."