Matthew Stepp
Forum Fixture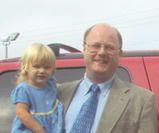 Joined: 07 Aug 2006
Posts: 2124
Location: Wayne, West Virginia, US of A
Posted: Fri Aug 31, 2012 6:49 am

Post subject: Eld.Kenny Long's Trip to the Ukraine with Eld.Raul Enyedi

---

Dear Brother Curtis,
My prayers and the prayers of my church are that you are feeling well and are enjoying the wonderful blessings of my Father in heaven which are bestowed richly upon you through our Lord Jesus Christ.

I rejoiced in my Lord and am very glad to hear that you are feeling better, so much better that you are seeking your Lord's will about meeting with those who are inquiring after our God and His truth. We will pray with you about this great endeavor that our God has put into your heart.

My trip to the Ukraine and to Romania was greatly blessed by our Lord through the prayers of His saints. I met up with Bro. Raul in Timisoara and together we flew to Kiev, Ukraine. My time with Bro. Raul was a blessing and a great encouragement. My respect for him as a brother and as an outstanding young and very sound man of God has grown immensely.

Our time with Bro. Alex was an eye opener. I still have a great respect for Bro. Alex but I feel that he is not seeking to do the Lord's will according to truth. Bro. Herb has greatly confused the whole matter. I regret that Bro. Larry Killion and I did not pursue the matter more diligently at first. But we didn't know all the details. Satan has greatly hindered the work of God. Bro. Herb is a good man and has an heart towards missions but he is not what he claims to be a Landmarker. He will admit that he is a primitive Baptist, but when he claims to believe in Landmark truth we will see by his practice that he is not. The brethren that came from Siberia whom Bro. Herb taught and baptized; they are primitive Baptists. This is what they claim. What Bro. Herb did in Siberia was that he rebaptiized them and then they were ordained and he acknowledged their "churches" as New Testament churches. He assumed that the members after they are taught will desire to be rebaptized by the newly ordained pastors. But He himself later went back to Siberia and baptized over a dozen or more of the members of these "churches". This is not a Landmark practice.

In Bro. Alex's case , Bro. Herb, claiming to believe in Landmark truth, he recognized Bro. Alex's baptism, even though it was performed by a Missionary Baptist. He brings over other Primitive Baptist brethren and they ordained him as a Primitive Baptist minister. Then they " officially" recognized his church as a New Testament church whose members were not scripturely baptized. This is not Landmark practice.

I was called into the kitchen by Bro. Herb and Bro. Alex to answer a question by Bro. Alex. Since he is planning to come to the states, he is now informed by Bro. Herb that he will have to be rebaptized by a primitive Baptist. He now wants to know what will he have to do to be accepted by the Sovereign Grace Landmark Baptist churches in the states. I told him that he will need to be rebaptized and his church will need to be rebaptized. When we left, Bro. Alex is praying about who to align himself with ; the Primitive Baptist whom Bro. Herb say that they are Landmark or go with the Sovereign Grace Baptists who are Landmark.

That Tuesday after the weekend conference , we hired a driver to take us to Cherkasy. Bro. Stanislav and his wife had arranged a hotel for us to stay. We stayed there 7 nights. Bro. Stanislav is our contact in Cherkasy. He stated that he believes and practices Landmark and wants to know more. However he did not read the Russian Trail of Blood that I left with him last October. Bro. Dema one of our translators read his Russian copy. He is a young preacher in the Grace church in Cherkasy and seems very interested in the doctrines that we preach and practice. He also wants to help in translating Baptist literature into the Russian language. We were invited to preach in three Baptist churches and were well received. Several of these churches had pulled out the Baptist Union and formed another Baptist Union. I don't know why they left the union nor why they formed a new one. All three pastors of the three churches where we preached invited us to come back. Bro. Raul was well received. He related well with them. I believe it was because he himself came out the Baptist Union, he had lived under the Communist rule and is a European believer.

The following Tuesday,the tenth of July, Bro. Stanislav took us back to Kiev so we could fly back to Timisoara, Romania. Aurel and Miriam met us at the airport in Timisoara and from there we drove about an hour to Bocsa.

My time with them and the other brethren was very enjoyable and I was extremely blessed. I preached twice in Bocsa and once in Filiasi. I found the brethren standing steadfast in the faith. They are continuing the work of God which you had begun under the leadership of the Holy Spirit. Your labor has not been in vain. I am reminded of this verse: "I rejoiced greatly that I found of thy children walking in truth, as we have received a commandment from the Father." -2nd Jn. 1:4.

The brethren speak highly of you and they miss you. They send you their love and prayers.

Yours in Christ, FOREVER, Bro.Kenny Long
_________________
In His service, ONLY by Grace,
Bro.Matthew



Jeremiah 31:3- "The LORD hath appeared of old unto me, saying, Yea, I have loved thee with an everlasting love: therefore with lovingkindness have I drawn thee."