Matthew Stepp
Forum Fixture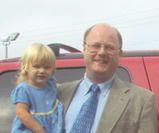 Joined: 07 Aug 2006
Posts: 2124
Location: Wayne, West Virginia, US of A
Posted: Fri Aug 31, 2012 6:44 am

Post subject: Romanian Mission Report July 2012

---

ROMANIA MISSIONS
Grace Bible Baptist Church, 26080 Wax Road, Denham Springs, LA 70726
Curtis Pugh, 505 Nanih Waiya Lane, Poteau, OK 74953
Jerry Dodson Sr., jerrydodsonsr@wmconnect.com
Curtis Pugh, curtis@abaptistvoice.com
Raul Enyedi, raul_enyedi@yahoo.com

Dear Pastors and Churches, August 07, 2012

Greetings to each of you from all of us here in Bocsa, Romania!
Mission work. Our spirits were encouraged and refreshed last month by the visit of Bro. Kenneth Long. He preached for us in Bocsa and also in Filiasi. Several people from different parts of the country came to visit us and to meet him. We had great times of fellowship together, both in Bocsa and Filiasi. Many more people planned to come to Bocsa to meet Bro. Kenny, but some could not get time off and others faced some unexpected health issues that prevented them from coming. We covered the cost of transportation of those who traveled far and showed that expense as "transportation" in the financial report. We praise the Lord for this wonderful spiritual time. The photo above shows some of the people who came to hear Bro. Long.



Literature work.

We continue to receive new requests for literature, for which we are very thankful. We have been reprinting more titles that were not available for some years, and pretty soon we're going to print the 2012 catalogue of free literature and send it out. We expect many literature requests after mailing the catalogue. The translation of Alexander's Hislop's The Two Babylons is almost complete. I need to go over it for the final proofing and Aurel is working on the graphics. We hope that by next month we will make it available in electronic format. We are thankful that God enables us to make such progress as this in His work.

We started a paper cutter fund with the money left from the binding machine. Due to the special offerings we received last month from Berea Baptist Church, Mantachie, MS and Hidden Hills Sovereign Grace Baptist Church, Willow, AK, (for both of which we are so thankful) we had some money left at the end of the month. The greatest part we put in the paper cutter fund and some in the property repair fund. We hope to be able to purchase the paper cutter before the end of this month.
Property repair work. The greatest part of the repair/maintenance work on the property is finished. For more than two months we feel that "we have been under construction," and this was quite a lot of hard work, especially for Miriam, as she had the hardest job in keeping up with the cleaning work. But all this is behind us now and we're thankful for the outcome. These two photos are of the front of the property. One shows the work in progress and the other after the final painting was finished. Gas consumption for heating should be greatly reduced with the new insulation and stucco. Gutters and downspouts are a "must" for such adobe brick buildings. (Few front doors here! The entrance to the house is through a gate on the right end.)



Getting acquainted with Romania.

Our country has a rich historical heritage (including Anabaptist heritage) and one does not have to travel far to see great castles or fortresses. Within 2 or 3 hours of driving from Bocsa lie several great sites: the ruins of the Roman city of Sarmizegetusa, built around AD 130; the medieval castle of Hunedoara and the fortress of Deva. In the photo to the right is the cell in the Deva fortress where the Anabaptist theologian David Francisc was first imprisoned and later martyred in 1579.

Our hearts are filled with thankfulness to all of you who stand with us by your interested prayers and faithful giving. Bro. Raul
_________________
In His service, ONLY by Grace,
Bro.Matthew



Jeremiah 31:3- "The LORD hath appeared of old unto me, saying, Yea, I have loved thee with an everlasting love: therefore with lovingkindness have I drawn thee."