Matthew Stepp
Forum Fixture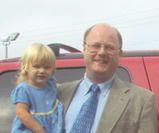 Joined: 07 Aug 2006
Posts: 2124
Location: Wayne, West Virginia, US of A
Posted: Wed Jun 20, 2012 2:27 pm

Post subject: Romanian Missions report June 2012

---

ROMANIA MISSIONS

Grace Bible Baptist Church, 26080 Wax Road, Denham Springs, LA 70726

Curtis Pugh, 505 Nanih Waiya Lane, Poteau, OK 74953

Jerry Dodson Sr., jerrydodsonsr@wmconnect.com

Curtis Pugh, curtis@abaptistvoice.com

Raul Enyedi, raul_enyedi@yahoo.comWednesday,

June 06, 2012

Dear Pastors and Churches,



Mission work.

Last month we made one trip to Filiasi and also to the capital city of Bucharest, where we distributed around 1,500 copies of literature and met with several brethren. Bucharest is a city of well over 2 million people, 10th largest in the European Union. We also began meetings with several university aged people in the city of Timisoara. In two meetings with them, all show a real interest in studying the Scriptures. Among them, several are well grounded in the doctrine of grace and quite mature spiritually. They asked us to start a Bible study with them. The subject we chose as an introduction is the Gospel message and the names by which Jesus and the Gospel are described to the unbelievers in the book of Acts.

Last Sunday we went on the streets of our own town of Bocsa to hand out literature and share the Gospel. We distributed 1,200 copies of literature. We talked with people, and most of them took the literature. Several said they would come to visit us, including the choir leader from the nearby Orthodox church. Only a few refused to take, and only one was almost aggressive. There was an open air bar on our way, and since we were handing out literature around it, we asked them if any would be interested. One of them was pretty drunk and he got upset with us. We left him, but two or three others there asked for literature and we gave them. The Lord was with us and we're praying for those who received the literature.



Vehicle breakdown.

The mission van is now running. The total cost of the repair was $3,000. We would like to express our thankfulness and appreciation to those of you who gave special offerings to cover the cost. We were able to replace what was taken from the software fund and reimburse myself and Miriam. We have $200 left, and will put it into the emergency repair fund, trying to build it back again. This fund was a great help when we had to pay the down payment for the part. A down payment almost equal to the cost of parts is required here when taking a vehicle in for repairs.



Literature work.

The first priority now is the reprinting of literature. Out of the 57 titles that we printed so far, 31 of which are absolutely necessary, we only have 14 titles available. So, right now we can make available only 25% of what we could have. I did not even count the materials that already have been translated and are waiting for printing, but only those that were once available. We are working full speed, putting in extra hours to try to make the truth available in printed form to as many as request it. Every week we receive new requests, many asking for publications that are not available. This is a great burden for us. When I visited the States, I was quite shocked to find out that sound literature is generally available but people are not interested in reading it. In our country, you can still find people that read, people that would write a letter, an e-mail or make a phone call to ask for literature on grace, church truth and other similar subjects that we print. And we have to say to many that we don't have right now what they are asking for. This is a grief to us. And beside those from the outside, there are those of our people who are eager to learn more. We want to provide the means for them to learn, the helps, the books.

Brother Aurel Munteanu from Filiasi and Brother Ionica from Braila are with us, helping us with the renovation work that we started. They asked me to tell them about Baptist history while insulating the house. I told them the story of the Baptists in America, in Wales, about the Anabaptists during the Reformation and the Waldenses in the dark ages. Bro. Aurel asked me, "And all this information is really available? You read it in books?" I said, "Yes, in English." He sighed and said, "Oh, the brethren in America have books, but we have nothing." This is the situation here, brethren. I said all this to help you see our burden. Pray with us, that in God's own time, this will change and sufficient materials will be printed to cover the needs here. We teach and preach, but others need to be grounded so they can teach our history. They need sources.

Just a short note about the binding machine, as I am out of space. We have received the prices. $10,700 for the cheaper model, $ 11,800 for the better one. I was wrong last month saying that we have sufficient funds to purchase it. Two things I omitted, the VAT tax and the fact that the Romanian currency just dropped in the last month to the lowest point ever against the dollar, so since the money in the fund is Romanian lei, not dollars, out of the total amount we lost $ 800 in purchasing power. With the special gifts we received for the month of June, we should have had 11,915, which would be enough to buy the better equipment, but we only have $ 11,100 in the fund.

Thank you all again for your earnest prayers and your generous help in this part of the Lord's work. Bro. Raul Enyedi



Dear Ones in Christ,

Due to the amount of information we wanted you to have, Raul omitted his paragraph about getting acquainted with Romania this month. My part in this letter will be brief, but we do want you to know what is going on here in Poteau.

We continue with the weekly radio broadcast and believe that this is food for God's children. I know it is for me each Sunday morning. Also the articles which I place in the local newspapers have resulted in another contact who says he believe in grace. (One paper is published 5 days a week and the other two are weekly shoppers reaching the whole county and also part of western Arkansas). Lord willing, I will meet with this new contact this week. He told me by phone that he knows of a few others who hold to the sovereignty of God. My older daughter, Ruthie and her husband, Bob, will be moving to this county in July, Lord willing. Bob is unsaved, but Ruthie is looking forward to hearing the Bible taught. So it is that we have increased hope that a New Testament congregation may be gathered and organized here in God's own time.

Some books and literature have been purchased and mailed out to interested persons last month. One S.B.C. pastor with whom I have contact has agreed to read materials that I have mailed him of the doctrine of grace. I continue each month to put a supply of the Berea Baptist Banner newspapers in the local Choctaw Clinic, having gotten permission from the director to leave them in the entry hall. When not physically hindered by my health, I continue to attend the Choctaw Seniors' Dinners held each Wednesday at noon here in Poteau. I remember

1 Corinthians 3:7: "So then neither is he that planteth any thing, neither he that watereth; but God that giveth the increase."

"Every Baptist a missionary!"

Thank you all for your prayers and your gifts to the work here and for Romania! Please continue to pray for us all.

In the cause of God and truth, Curtis Pugh
_________________
In His service, ONLY by Grace,
Bro.Matthew



Jeremiah 31:3- "The LORD hath appeared of old unto me, saying, Yea, I have loved thee with an everlasting love: therefore with lovingkindness have I drawn thee."